Hi Church,
I wanted to give you a snapshot, in the article below, of what a difference you help make in the lives of the village girls of Liberty School. Enjoy reading about how you are making dreams of an education come true!
Also, we have two girls currently in need of sponsors! You can get personally involved in rescuing one of these children
.
As we prepare again for travel to East Africa (late this month), I want to appreciate you for standing and traveling with us! "Those who GO cannot do so without you who are willing to SEND!"
You make dreams of an education for girls come true
One African girl's perspective on growing up in the village:
When you live in something you don't think about it. I was the first of eight children. As a result, I didn't really have time to reflect on what was around me. That is how girls are there—you get married, then you have children. You never really question it.
But when I was young, all I knew is that I didn't want to live the life my mother was living. I wanted a job. I wanted to be working. The hardship and hard life that my mother—and girls in general—faced inspired and motivated me to have a life different than that.

SO many girls are in this very situation, but there is NO alternative than to follow in the footsteps of their mother: marry as a young girl, have children, and care for the family against all odds.
Women and girls would go through female genital mutilation and get married right away.
Once you're married you have to start having children and then having to feed those children. The women become so busy and overwhelmed that they forget about what they went through. There's no time for reflection. You now have this husband and he probably beats you and you don't have food, so you become focused on that.

What a difference for the girls you help us rescue!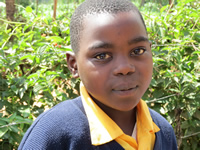 When you give a girl an opportunity and new thoughts about the dignity that God created them for, they change! These are comments we hear from the girls of Liberty School every time we visit!
I plan to be a lawyer who stands up for those who are suffering from injustice.

I plan to go to the University and I would even like to be a politician who will help my people!
Thank you for your prayers and partnership!
Love,
Roger and Brooks